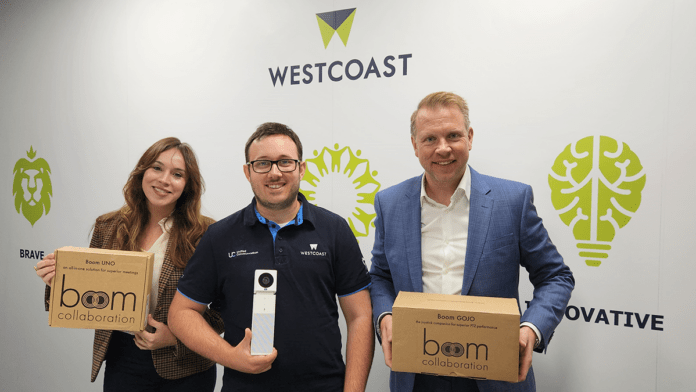 Video conferencing manufacturer Boom Collaboration has partnered with Westcoast to become its official UK distributor. Westcoast will supply Boom Collaboration's full product range to more than 5,000 resellers. The Texas-based company, known for its high-performance conferencing equipment, operates in 30 countries and plans to expand further. The deal with Westcoast is expected to fuel Boom Collaboration's growth and deepen its penetration in the UK and international markets. The company aims to disrupt the sector by offering unique products and business models.
Boom Collaboration: A fresh face in the sector
Boom Collaboration, a business venture born in 2020 amidst the global health crisis, was created by founders Fredrik Hörnkvist and Holli Hulett. They sought to offer high-value, high-performance products in a bid to distinguish themselves in the crowded conferencing sector. The business has thus far seen rapid growth, with operations now in 30 countries and plans for further expansion. Boom Collaboration aims to stand out by offering something different in terms of their products and how they do business. They want to show personality, fun, and passion and be a disrupter in the field.
Products making a splash
Among the products to be distributed by Westcoast are the Boom UNO vertical video bar, MAGNA 4K PTZ camera, GEMINI expandable audio innovation, and the GOJO multi-camera controller. These devices aim to offer something unique in the market, promising to enrich the user experience in a variety of settings, from personal workspaces to large boardrooms.
"Boom Collaboration might be a relatively new conferencing name but the company has quickly built an impressive reputation and a very comprehensive product portfolio," said Westcoast's UC business manager, Sam Armstrong.
Fostering growth through partnerships
Hulett stressed the importance of strong, long-term relationships in the industry. This partnership with Westcoast is seen as a key step in their strategy for expansion and sustained success. Hulett envisions the company as a disruptive force, bringing fresh ideas backed by a wealth of personal experience.
Boom Collaboration aims to offer the highest levels of support to resellers through the distribution channel. They want to go the extra mile with their distributor, Westcoast, and help resellers transition to the new world of collaboration.
Final thoughts
This collaboration between Boom and Westcoast is an exciting development in the conferencing sector. With Westcoast's established reach and Boom's innovative product line, this partnership could well disrupt the industry and usher in a new era of advanced conferencing solutions. It's a bold move for the young company but one that could pay dividends if they can deliver on their promise of high-performance, high-value products. As Hörnkvist puts it, "Boom is beginning to boom", painting an optimistic picture of the company's future.