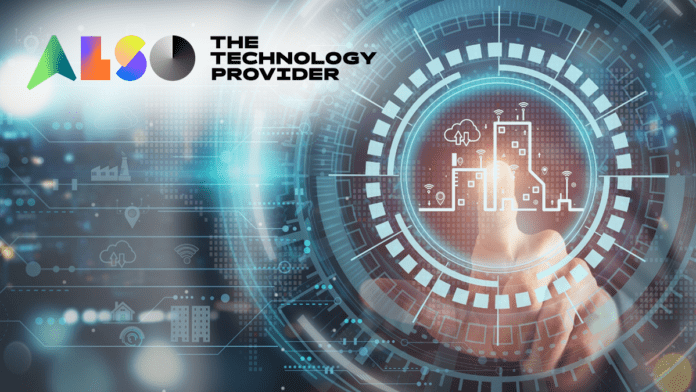 The ALSO Cloud Marketplace launched in the UK in April, but it has already made a splash in this developing sector and the company has ambitious growth plans over the coming years.
The UK is the biggest cloud market in Europe, worth billions and growing every year. Alongside this, demand for cloud marketplaces is continuing to grow. With such opportunities, it was little surprise when one of the leading European cloud marketplaces, the ALSO Cloud Marketplace (ACMP) launched in the UK in April.
For resellers and managed service providers (MSPs) in Europe, the ACMP has been providing services and solutions for about a decade. The marketplace for cloud solutions and services helps resellers and to implement an as-a-service by providing access to all the tools that a digital workplace requires, including cloud licences, storage, back-up, cybersecurity and more.
In the UK, ACMP has more than 1,600 services available from some 100 vendors including leaders such as Microsoft and Adobe, covering software and artificial intelligence.
For users of the ACMP, there are many benefits, such as smart API integration to save time when invoicing, intelligent user analytics, a digital quotation tool, marketing services and a partner upskilling programme.
Users can also white label ACMP and use their branding to create a cloud platform that has 24/7 self-service for customers, as well as giving role-based access to customers to purchase licences and services on a when-needed basis.
It is also constantly updated. "The UK market is quite over distributed in terms of indirect Microsoft providers, but not all are using their own platform," says Mark Appleton, chief customer officer at ALSO Cloud UK. "Our platform is used in 114 countries, and it's our own internal platform and it's dynamic. We're new normally first to market when there's changes from the vendors.
"We have biweekly sprints to ensure that we are constantly adapting, changing and updating anything that comes from the vendors that needs to be done. When some of our competition in certain countries are also using our platform but white labelling it, then we know we have a very strong package towards the market."
ALSO's UK platform replicates that seen – and used in increasing numbers – around the world. As such, starting up in the UK wasn't difficult – the announcement was made in February, and it went live in April with many leading vendors on board, although most were on pan-European contracts already.
The biggest challenge was recruiting the right people to join ALSO's UK operation, Mark says. "When you have no customers and no net sales, then you need that mentality of wanting to be there and onboard resellers as quickly as possible and start provisioning and growing the business," he says. "So we looked for a mixture of sales hunters but also those with market experience."
Two external agencies were used in the recruitment process, and Mark is happy with the team he now has under him. He started with five employees in April, and that has already grown to 10, with plans to add to that number in the coming months as the number of users of the ACMP continues to grow.
While ALSO may only be six months into its UK operation, it has already made its mark in the sector. "The response from the market so far has been very positive," says Mark. "Our full package is very strong for MSPs especially those that are looking to develop and grow their customer base and they are taking advantage of our offering to grow their services."
Cybersecurity strength
One of the strengths of the ACMP that MSPs are taking advantage of is its cybersecurity provision. "With cybersecurity, the risks and threats are increasing all the time," says Mark. "But our platform has MFA installed, which means everyone must use it. There's a user log, there's an audit log, so we know exactly who's pressed what buttons at any one time.
"Also, for Azure users we have Azure threat and fraud protection. Here, we measure any dramatic spikes in Azure usage 24/7 and can instantly shut that down until we can get in touch with the customer to understand whether it is a genuine change in their usage or whether a cyberattack has happened to them. It gives protection for our MSPs and the end users.
"Cyberattacks are a huge threat and attacks are becoming more frequent and MSPs and end users are really starting to change their mindset on how they're protecting their data and systems from these attacks."
Getting involved
For MSPs that want to become a partner in the ACMP, the process is straightforward, according to Mark. "They just need to go to ALSO.co.uk, hit the new partner or registration button, they fill in 12-14 pieces of information and then within a few moments that's transferred into our systems, where we pick it up," he says. "Then within 45 minutes their credentials are sent from the platform to the new onboarded MSP and they can log in and start using the platform.
"We will follow that up with a demonstration if it's required. But a lot of our registrations come from existing leads that will have had demonstrations previously, so they've already seen the platform and the benefits of the ACMP value proposition."
The ACMP is designed to be accessible to businesses of all sizes, from one-man-bands to huge corporates, Mark adds. "ALSO across Europe is always looking at customer breadth," he says. "The SMB market is critical for us across Europe as it is such a mixed sector and where the big opportunities are."
For instance, the ACMP can help with the drive towards digitalisation, which is a journey that many businesses are on currently. "That's the way the market is trending, but at the same time, we want to work with partners that simply want to grow their business as well.
"For example, we have value-added propositions around marketing as a service, which is marketing in a box that's white labelled that they can use to go out to market and drive the growth of their customers, have lead generation, et cetera."
Using the ACMP can also help resellers, MSPs and customers with the cost of doing business through increasing efficiency and automating certain processes. "This is always crucial, but especially so in the current economic times," says Mark.
New energy
Mark has spearheaded the move into the UK, but this is just the latest stop in his ALSO career, which now stretches back 24 years. Over that time, he has managed printing supplies in the UK, before moving onto a European-wide supplies role, then becoming group lead for the Centre of Competence Printing and Supplies in February last year
"I've been with ALSO a long time now, although 23 1/2 of those years were in the supply part of ALSO's business," he says. "At ALSO we have 'three S's' – supply, solutions and services. In the supply side I mostly worked in the printing side before I took on this new role.
"I found the opportunity to bring ACMP into the UK extremely exciting. The transactional business is a tough market now, but this is the future and, while not a fresh start, to come and do this role it gave me extra energy.
"But I had to go through that transformation myself from a sales cycle of 'how many do you want and when do you want that delivered?' to the journey of getting the customer onboarded and having a clear faith in ALSO and the platform before they commit and migrate all their licences across to us. The sales journey is completely different to the transactional journey. But that's something I've transformed to, and it's given me new energy to take this business forward in the UK."
Culture of development
Mark has had a diverse career at ALSO, which is indicative of the breadth of the business, but also its culture of developing its employees and giving them chances to progress through the company.
"ALSO's culture of developing its employees is very strong," says Mark. "That's one of the reasons why we don't have a huge turnover of staff within the organisation, because they see that as a real value add for them, improving whether that's in a local organisation or a region or for the whole group.
"That's why a lot of people join this greenfield operation, knowing that ALSO will expand in the UK over the next few years, but also there's opportunities working in other countries or within the whole group if they want that in the future."
Future
The future is something that Mark is focusing on with ALSO in the UK, especially as it is a rapidly changing market. "The ecosystems are changing all the time, there's more vendors coming out with new solutions and then the bigger vendors are buying those smaller vendors, so the market is changing all the time, which is what makes it an exciting market to be in," he says. "The landscape will continue to change over the next two to three years, whether that's at a vendor level, distribution indirect level, or as we've seen already, a lot of MSPs are being taken over
or bought out. I think it's an exciting time for the market."
Mark has big ambitions for ALSO in the UK. "We will never onboard a new country and not aim to be number one or two in the market," he says. "That's the long-term plan and that will take some time, of course, but that remains the biggest goal. But now it's really around brand awareness, attending events, getting our name more and more out there, having face to face meetings with the MSP communities and really engaging with them to offer our platform, our services and all the value add for the future."