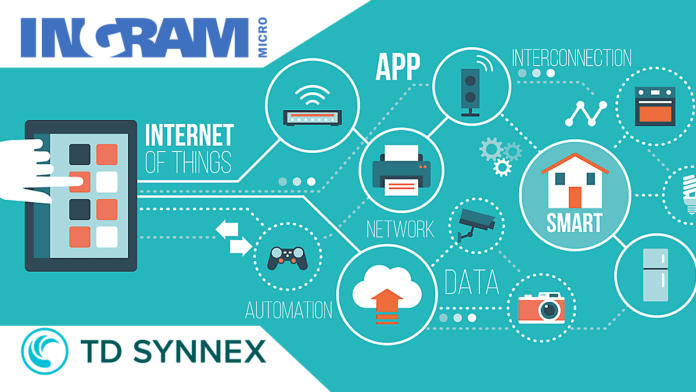 The Internet of Things is becoming increasingly popular as businesses realise the potential value they can bring to a business, which means there are opportunities for resellers to get involved and add new revenue streams.
The turmoil brought across the globe by the COVID pandemic changed the way the UK works in several ways. One of the most noticeable is the increase in hybrid working, but another change is the growth in demand for Internet of Things (IoT)-enabled devices to help automate processes and improve efficiency.
"Over the past few years, almost every industry has suffered significant disruptions due to global events, including supply chain issues and skill shortages," says Bhavesh Patel, senior executive, IoT and IA – solutions and professional services at Ingram Micro. "This has led to customers actively seeking out IoT and automation solutions to improve operations across the board. Today, customers are much more educated about the IoT space and its resellers that are prepared for the conversations that are winning deals.
"Customers are looking for solutions that can drive business outcomes and deliver a strong return on their investment. Currently there is a strong demand for solutions that help increase visibility, reduce spending and improve efficiency. These three requirements appear frequently across all industry verticals."
Elliet Hall-Jones, senior business development manager, Data and IoT, UK, TD SYNNEX, agrees that interest in the IoT is growing. "Customers are realising that they can solve their business requirements by adding individual IoT sensors as opposed to installing a fully integrated system," he says. "Some IoT solutions – smart buildings, for example – used to imply that the complete building would need to be 'smart'. Whereas installing some passive infra-red and temperature sensors in specific areas can solve the business requirement. Vendors are also allowing for different protocols to be linked to their wireless access points so reducing the need of new additional gateways.
"Customers are looking for an IoT device to give them correct and continuous missing data to answer the questions they have in their business. It then must either connect to an existing network or the data it produces must be easily integrated into the existing systems. Sensors also need to be fit for purpose and not overly complicated, and easy to install. Most of all, an IoT device must have a clear ROI. Monitoring something because you can isn't a good business case."
Sam Colley, CEO of Pod Group, adds that many businesses are looking for more data on a product's journey, not just the start and end points but throughout the chain. "For instance, labels on deliveries can have sensors to show what happened to it from leaving the factory, through the warehouse and to delivery," he says. "You know where it has been, what temperatures it has been exposed to or if it has been tampered with. We're seeing a hunger for more transparency from end to end in the supply chain, logistics and even in sectors like agriculture. There's lots of additional business sectors that are demanding this increased level of information and greater insight."
Complex market
But the IoT space is large, complex and fragmented, which can make selling it difficult. "In simple terms, the software, hardware and connectivity in each of those elements is very different," says Sam. "And the level of knowledge you need to understand all of them and what's right for what application, what's supported by each device, or even what's supported by the network infrastructure is difficult, especially for a small company."
Bhavesh adds that IoT solutions can require products from multiple vendors to be integrated and packaged together. "This makes the IoT space very challenging to navigate for any resellers looking to get started," he says. "Accordingly, resellers have two options – either to make a significant investment and create their own IoT team for understanding this domain, testing and validating technologies, and building their own catalogue of solutions. Or they can partner with companies such as Ingram Micro that have gone through the effort of building an eco-system of multi-vendor IoT solutions and services that the resellers can choose from."
But for resellers that do offer IoT in their product suite, while it is important for resellers to educate their customers on IoT solutions at a high level, the focus of the conversation should be around the customer's business problems that can be addressed with IoT solutions, Bhavesh adds. "This should then be followed by a clear ROI analysis to demonstrate the benefits in the form of a measurable value where possible."
Understanding needs
Elliet agrees that resellers' conversations with their customers should be to look to understand what their needs and wants are. "Understanding the end user customer's challenges will lead to the identification of a business need/case," he says. "For example, a company that manages 300 meeting rooms and wants to understand how often the rooms are being used as opposed to booked, for example, could get the answers they need by installing a PIR sensor, or could go deeper by using a people-counting solution to understand how many people on average are using the meeting rooms when in use.
"Customers are seeing real results when they have installed IoT sensors – and it's giving them a competitive edge. I also think we will see increased activity as the government's drive to build healthy places starts to gain strength and importance.
"The need to monitor and report on buildings will only grow. For example, while there isn't an IoT sensor that detects mould yet, we can monitor for the conditions that lead to the growth of mould and alert housing providers to what could potentially become a dangerous living environment. Any partner that has a knowledge of and access to a specific vertical market should explore the potential of IoT and where it could take them and their customers."
But these conversations should also be kept simple, Sam adds. "There's too many technical explanations sometimes in IoT," he says. "Really, it's just about understanding the value that it generates or the savings it creates and delivering that message to the customer. If they've got an IoT application, avoid the technical jargon, you just need to communicate the value."
More opportunities
Bhavesh adds that as applications for IoT are only going to grow in the coming years, it will create new opportunities for resellers. "We are seeing new and innovative solutions to problems which were previously thought unsolvable in virtually every industry vertical," says Bhavesh. "As the size and complexity of the solutions increase, we are seeing new delivery models emerge such as IoT as managed services. This means that the provider handles the entire IoT eco-system for the customer including hardware, software, connectivity and on-going maintenance."
Sam agrees that the opportunities are only going to grow. "There are a lot of opportunities in banking, agriculture, transport with things like predictive analytics, for instance," he says. "There are so many ways that IoT can be leveraged.
"The UK is primed to take advantage of it. You've got to run towards technology sometimes and not run away from it."