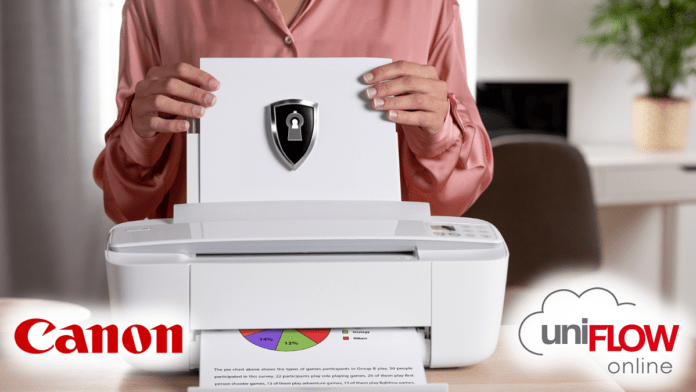 As cybercrime continues to rise, businesses need to be alert to the threat and take measures against it. This includes looking at their print fleet and is where Canon uniFLOW Online can help.
Cybercrime appears to have become a part of everyday life and is now an important agenda item for most businesses operating today.
As organisations better understand the threats, and are becoming more aware of cyberattacks, the sophistication and range of attempts is also on the rise. According to research by Tanium, 90% of executives reported a rise in cyberattacks on their businesses since the onset of the pandemic, citing remote working and access control from new devices and locations as their main challenges1.
For most companies, privacy, security and data protection are the biggest challenges post-pandemic. And with 70% of organisations reliant on print2, it's important they do everything they can to secure their printing infrastructure from being attacked. In fact, many organisations Canon speaks to are looking to apply the zero-trust security model to their printing environment as well as to their wider office locations.
At Canon, we recognise that every organisation is at a different point in its zero-trust journey, which is why we offer flexible implementation options tailored to their specific needs. Using our flagship uniFLOW Online product, we can match their level of security from open network to fully micro-segmented zero-trust. With device isolation, the network security remains intact, while enabling convenient printing from any device. The network's micro segmentation is the best form of 'assume breach' zero-trust principle. Naturally, uniFLOW Online can work seamlessly in this customer environment; all secure print jobs are stored in the cloud and end-users can collect print jobs effortlessly at any Canon imageRUNNER Advance printer or release them securely using mobile devices.
"Print is an endpoint, and endpoints are just one way into a company and its network. uniFLOW Online can support organisations by allowing them to confidently secure their printing in zero-trust environments, safeguarding valuable data and providing peace of mind to employees. They will also benefit from our comprehensive information security features with full control of the solution and being able to grant up to nine different levels of access to users, based on the 'Use Least Privileged Access' principle with zero-trust guidelines," says Jamini Vekaria, Product Marketing Manager, Canon UK & Ireland.
With uniFLOW Online, you experience a range of robust information security features, ranging from secure printing and restricted device access to data encryption, minimising the risk of human error or malicious interference. And organisations can be confident their network is protected, and the integrity of their critical information remains intact.
"By embracing zero-trust, businesses can enhance their network security; maintaining complete control over their data and ensuring peace of mind at every stage," says Jamini.
Device Access Control ensures limited access to devices and functions, while Secure Print prevents unauthorised access to print jobs, effectively reducing the risk of data breaches. Encrypted and user-specific scan workflows further protect against scanning to incorrect destinations while multi-factor authentication provides an additional layer of security for advanced access roles.
Canon places the highest focus on information security and safeguarding the confidentiality, integrity and availability of written, spoken and electronic information holding an ISO 27001 Information Security certification. In addition, it has been identified as a leader in Quocirca's 2023 assessment of the print security market due to its extensive hardware, software and services portfolio that follow a 'secure by design' approach. "When customers are thinking about securing their print environment, they should be thinking about Canon's uniFLOW Online, with a zero-trust implementation supporting every stage of their security journey," concludes Jamini.
1. Tanium Report Reveals 90 Percent of Organizations Experienced an Increase in Cyberattacks due to COVID-19.
2. Quocirca Print Security Landscape 2023 Final Full Report.