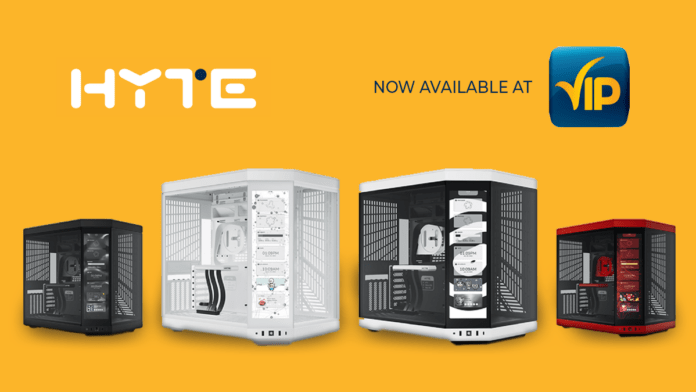 VIP UK has announced its official distribution partnership with PC case manufacturer HYTE. Known for their aesthetically pleasing and functional designs like the Y60, HYTE's products have been taking the industry by storm. The partnership, which starts on November 8, will enable VIP UK to bring HYTE's award-winning portfolio to a wider customer base in the UK, meeting the growing demands of the market.
Revamping the PC experience
HYTE has been turning heads in the industry, particularly with its Y60 case. Released in the past year, this product has gained a strong reputation for its stunning aesthetics and innovative panoramic glass design. This design enables enthusiasts to showcase their PC hardware in style, highlighting HYTE's acute attention to detail and commitment to innovation. VIP are set to include these exciting new releases in their product lineup.
Dave Evans, head of purchasing at VIP, said:
"HYTE are taking the industry by storm with their exciting and innovative design choices, and I am thrilled to be announcing a distribution partnership between VIP UK & HYTE. Getting genuinely excited about a PC case doesn't happen very often, but the care and detail the HYTE team put into each product, coupled with the cutting-edge designs results in products (and ultimately PCs) that look new and unique. With new products coming soon the story is far from over and I am delighted that VIP will be part of bringing HYTE to customers in the UK."
The future looks bright
This partnership is not only a win for VIP and HYTE but also for their customer base. Jeffrey Cheng, senior director of marketing and sales for HYTE, expressed his excitement about the partnership with VIP UK. He recognised the importance of distribution availability for HYTE, a burgeoning brand, and lauded VIP's extensive experience in the UK gaming industry and expansive customer base.
Final thoughts
This partnership between VIP UK and HYTE is a clear indication of the evolving landscape in the tech industry. It showcases a commitment to innovation, aesthetics, and user experience. The unique blend of VIP's expansive distribution and HYTE's innovative design and attention to detail promises an exciting future for PC users and the industry as a whole. As these two entities join forces, we can expect a new era of PC experiences, empowering the consumer with style and functional brilliance.